My Son Joel LOVES Donkeys!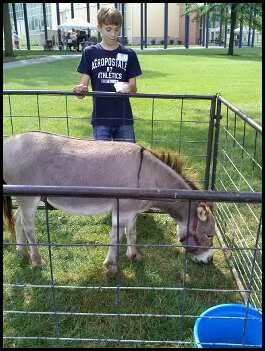 He adopted a mini (Homer) at his school's 4H programand spends every free minute taking care of the little guy. One day he was looking for donkey stuff online and he came across this Etsy Shop
O.M.G! There are NO words to describe this shop. It's just awesomeness all the way. We
sat and almost peed our pants laughing at all the cool stuff in this shop. Not only is it super creative and amazing, The proceeds go towards rescuing and caring for unwanted/abused donkeys. How incredible is that? Ady, the shop owner, is the most amazing, lovely and beautiful and creative person on earth! There are no words to describe her either. I just can't stress it enough! You all HAVE to go and check out her shop!
She recently made Joel his very own donkey. This one was made after I believe it was her Miss California Beauty Queen Burro that was Joel's favorite listing. OMG! It's the sweetest thing in the world!
Here he is posing with his Miss California Burro
Thank you again Ady! He loves it and it's most definitely the most talked about item in his possession. He displays it proudly on top of his entertainment center in his bedroom but he usually ends up having to take it to school with him because everyone wants to see it.
To get your very own donkey... have a look at Ady's shop!
Pomegranite80